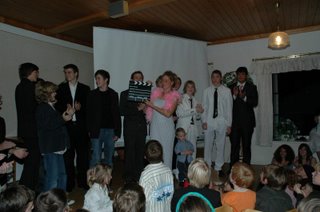 After 2 years of hard work Simon's latest film was premiered in Glonn's town hall on Friday 27th October. The evening was a resounding success. With about 350 people there wasn't even standing room left. The audience went wild, they clapped and cheered all through the credits and especially when Simon and the rest of the group went up to take a bow. It was just electric.
A reporter and photographer from the local edition of the Süddeutsche Zeitung, one of the largest and most highly regarded German newspapers were there and were as enthralled as everyone else.
The
review
in Monday's paper was excellent though it does give away more of the story than Simon would have liked.
Simon is working on a "special" DVD, featuring the film + the premiere night + lots of extras, which will be available to anyone who wants it.