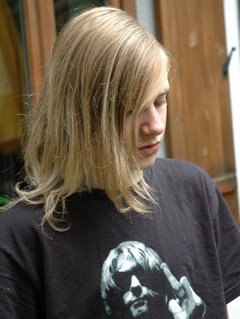 Life is full of surprises isn't it?
Things are happening all the time that are worth a blog entry.
Like leaving the project at HP after seven years.
I'm now working on a project on the other side of Munich so I spend an hour more "on the road" every day. But it's interesting and a pleasant change though the first few weeks were a bit hairy.
The second public showing of Simon's film was a great success and got him into the newspapers again.
There's more but I just don't want to spend all my free time writing blog entries.
Every now and then there's something that has to be published.
In this case a picture is worth a thousand words.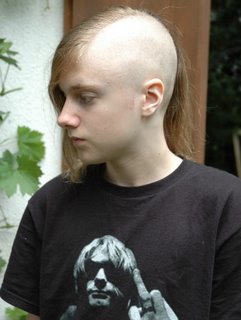 Oliver actually wanted a mohican haircut so he went around looking for someone to do it for him. Claudia wouldn't do it and neither would anyone else except for his good friend Niko.
Obviously he preferred it like this and decided to stop halfway through.
I suppose it's a question of taste really and it's probably not that much more shocking than the Ziggy Stardust haircut we used to run around with at that age.
His teachers probably love it as much as they love the T-shirt.